| | |
| --- | --- |
| Posted by Cheryl Zemke on April 22, 2012 at 9:45 AM | |
Happy Earth Day! I thought I would give everyone some ideas to inspire you to think environmentally. These are ideas you can use today and everyday.
Buy items from a thift or vintage store and add them as signature pieces to your already existing wardrobe. Fashions from the past sometimes give much needed character to an outfit. A friend of mine collects vintage purses and uses them everyday to accessorize her current fashions. She has a great style that you notice immediately when meeting her.
Buy a vintage item and have it custom designed into a more modern item. I have been doing this for a while mainly with wedding dresses, where I make them into First communion or Baptism outfits for babies. But even funner then this would be to take vintage fashions and create a new item entirely that can be worn anyday. For the fall C3 has a line of headband and collar accessories nicknamed the "Garbo", some that I have used recycled sweaters (washed and sometimes felted). By using these recycled items it makes into a one-of-a-kind item. This three-pc set shown sells for $30.00 including the hand sculpted floral pin that can be used on other fashions.




Buy items that are made of sustainable materials. Sustainable fabrics refer to fabrics derived from eco-friendly resources, these fabrics can be cottons (natural, genetically modified and organic), soy, hemp and bamboo. Fibers grown that are genetically modified (GMO) cottons plants are resistant to pest infestations, reducing the amount of pesticides used. Wikipedia explains that "Organic cotton is grown without the use of any genetically modification to the crops, without the use of any fertilizers, pesticides, and other synthetic agro-chemicals harmful to the land". Furthermore, fibers can be used in their natural color. Cotton is grown naturally in a few different colors, without any dyes. Promote and purchase cotton items that are in their natural form. Lastly, there is PET plastic. Many manufactured fabrics are made from plastic, to name only a couple like polyester and rayon. PET plastic is made from recycled plastic that is melted down and reused to make new fabric.
Buy from an oganization that promotes animals such as the World Wildlife Fun. They have great styles for everyday and it gives back at the same time. http://www.worldwildlife.org/gift-center/gifts/Apparel-and-More.aspx
Alter existing fashions to fit better and turn into a more current style. Many times my customers have brought me a stack of items, barely used, to ask my advice about making it fit or more stylish for today. Sometimes it just takes a little tweeking or shortening of a hem to update a style. I am available as your Stylist to help you look your best. Call me for an appointment to update your wardrobe today.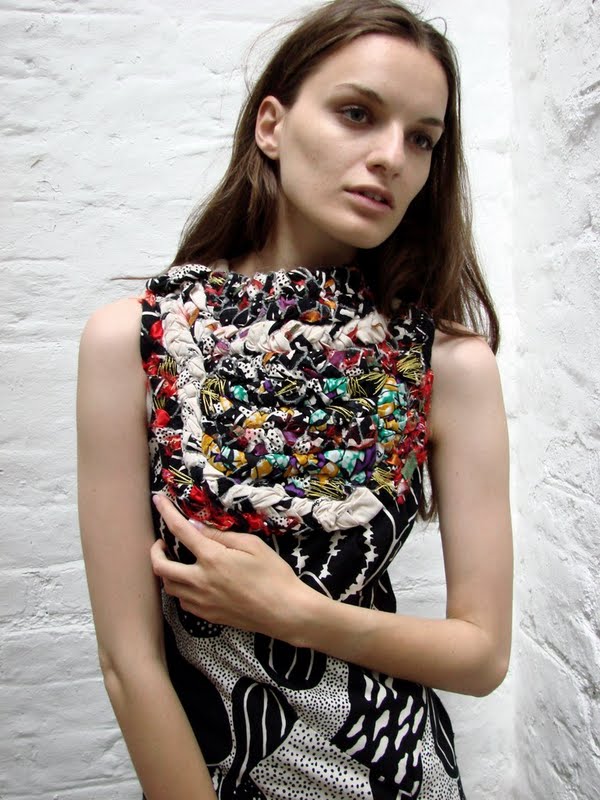 Two incredible styles made from recycled items... Design your own today for EARTH DAY.
REMEMBER: "The average American throws away 68 pounds of clothes a year. Approximately 25% of all insecticides and 11% of all pesticides are sprayed on cotton fields (the same cotton that is spun into your t-shirts, jeans, and sweatpants). A Global Cool study showed that over half of all clothing, shoes and accessories purchased in 2008 was never worn. This pile of unused purchases adds up to an estimated 8 million tons".  Direct from http://planetgreen.discovery.com/fashion-beauty/beyondearthday-fashion-beauty-impacts.html